BM #116 : Week 4, Day 5
Theme : Simple everyday thali
For today's thali, it's once again a mix of rice and roti. Meals like this make my life easy since the roti part is really attractive to my son. For me and my husband, the South Indian part holds more attraction. Anyway, we can all agree that when everything is together in a plate, it definitely feels like a feast.
The plate has a lot of regular recipes that I prepare, but even for the regular dishes, recipes can vary. For example, for the spinach kootu, I used the leftover coconut paste from making a porial. I just made a smoother paste of the coarse paste I already had. The difference is the presence of garlic which changes the taste of the dish than usual. The rajma also is free of onions and garlic making it Jain style. The real reason was that I was out of both items than intentionally making it Jain style. I used canned tomatoes for it. It's rare that I am out of onions, but it does happen once in a while.
Onions and tomatoes are really vital in cooking for me. So I am always stocked up in both. When Covid 19 was at its peak here in NJ, I started stocking up on canned tomatoes. I always have a can or two as a back up. But during Covid time, I started buying packs of 12. I find it really helpful when you want to stretch the window between the grocery shopping. A pack of 12 comes for a long time for me, but it's comforting to know that I have a back up in case I am not able to shop that week. Read on for the recipes.
The lunch plate has
Rice
Spinach kootu
Rajma
Roti
Yogurt (not in the picture)
No onion no garlic Rajma recipe:
1 can red kidney beans or 1 1/2 cups cooked rajma
1 tablespoon ghee or oil
3 big tomatoes, puréed or chopped very finely or half of a 14 oz canned tomato
2 green chilies
1/2 teaspoon turmeric powder
1 teaspoon red chili powder or to taste
1 teaspoon coriander powder
1 teaspoon garam masala or pav bhaji masala
Salt as needed
A handful of Coriander leaves for garnish
Method
If you are using dried red kidney beans, wash and soak them overnight. Pressure cook in Instant pot for 30 minutes with enough water to cover it completely. Once done, let the pressure release naturally. If using canned kidney beans, wash and drain the beans. Set aside.
heat ghee or oil in a pan. Add the chopped green chilies, salt, turmeric powder, red chili powder and coriander powder. Mix with a spatula and then add the puréed or finely chopped tomatoes. Mix well. Add the garam masala. Cover and let the tomatoes cook, mixing once or twice in between till the tomatoes are soft and mushy and oil floats on top. Now add the rajma, with the water it's cooked in if you started from dried beans. Else add the beans and a cup of water. Add more water if it's too thick. Let it come to a slow boil, stopping when you feel that the consistency is perfect for you. Taste test and adjust seasonings if needed. Add chopped coriander leaves on top. Serve with rice or roti.
Keerai kootu
1/2 cup shredded coconut
1 teaspoon cumin seeds
2 red chilies
2 cloves of garlic
2 bunches of spinach – about 4 cups
1/3 cup of cooked moong dal
1/3 cup water
Salt as needed
1/2 teaspoon turmeric powder
For tadka

1 teaspoon oil
1 teaspoon mustard seeds
1 teaspoon urad dal
A pinch of hing
Method:
Make a smooth paste of coconut, red chilies, cumin and garlic, adding a little water. Set aside.
In a big pan, add the chopped spinach and a little water. Let the spinach cook completely. Now add the ground coconut paste. Add dal. Mix well and let it cook for 4-5 minutes, adding a little more water if it's too dry. Taste test and turn off the heat when it reaches the consistency you like. Prepare the Tadka in a separate pan with mustard seeds, urad dal and hing, add it to the kootu. Serve with rice.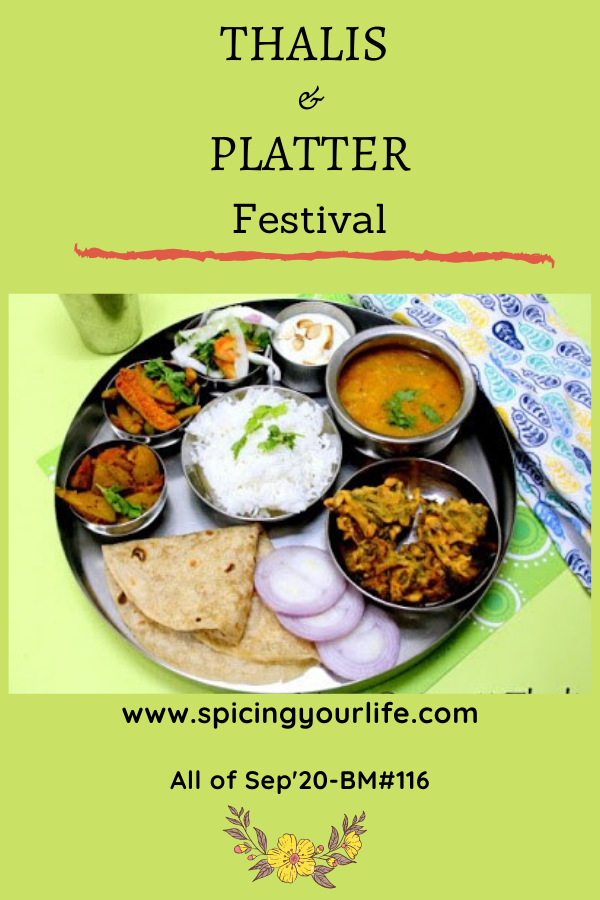 Check out the Blogging Marathon page for the other Blogging Marathoners doing BM#116
You are invited to the Inlinkz link party!
https://fresh.inlinkz.com/js/widget/load.js?id=9c9b10dbdecdfb9300b0