BM #116 : Week 4, Day 1
Theme : Simple everyday thali
Green plantains (vazhakka) and yogurt based mor kuzhambu is one of the favorite combinations for my husband. My mother in law used to prepare this at least a couple of times in a month. Mor kuzhambu also pairs well with parippu usili. That's a favorite with my husband as well. For today's thali, I had only the South Indian part of the meal planned. I had some cooked black eyed peas in the fridge so at the last minute I added the roti and curry also to the thali.
On days when I make rice and roti, my son will eat only the roti. Rice is for the days when he has no other choice. Well, I am not complaining much since I wasn't a fan of many South Indian dishes at his age. Since he eats rice, I will take that for the time being.
I was able to cook with a lot of enthusiasm when I was started preparing the thalis. I have just four more to do now and somehow I am not finding that energy to get it done. I keep finding some or the other reason to keep postponing it. I guess for the last week of the marathon, I will end up cooking and posting on the same day. It's the shopping that I have been postponing. Hopefully I will get it done soon!
Read on for the recipes and pictures.
The thali has
Rice
Mor kuzhambu
Vazhakka
Roti
Cucumber slices
Vazhakka:
Heat 2 tablespoons of oil in a pan. Add 1 teaspoon mustard seeds. Once it pops, add 2 cloves of minced garlic. When it changes color a little, add two peeled and diced green plantains.
Now add the spice powders – 1 teaspoon each of red chili powder and coriander powder. Add salt as needed and 1/2 teaspoon turmeric powder too. Sprinkle a little water, mix everything carefully. Cover and cook, removing the lid to mix in between to prevent it sticking to the bottom of the pan.
When the plantains are cooked, turn off the heat. Serve with rice and any yogurt based gravy.
Mor kuzhambu
Soak 1 tablespoon each of rice and toor dal in a small bowl for at least 20-30 minutes. Drain and grind along with 1/4 cup shredded coconut, 1/2 teaspoon jeera seeds, 2 green chilies and 1" piece of peeled ginger. Make a smooth paste of this adding water as needed. Keep aside.
In a pan, add a teaspoon of oil. Add 1 teaspoon of mustard seeds and 1/2 teaspoon of fenugreek seeds. Once it pops, Add the vegetable of your choice for the mor kuzhambu. You can use ladies finger, ash gourd, plantains, yam etc. Add half teaspoon of turmeric powder and Let the vegetables cook. Once it's cooked, add the ground paste and half cup of water.
Now blend 1 cup of yogurt in the blender jar for a couple of minutes. Add this to the pan. Lower the heat and let it cook. Once it starts to boil, turn off the heat and remove the pan from the stove. This is to ensure that the heat doesn't curdle the yogurt. Serve with rice and vazhakka.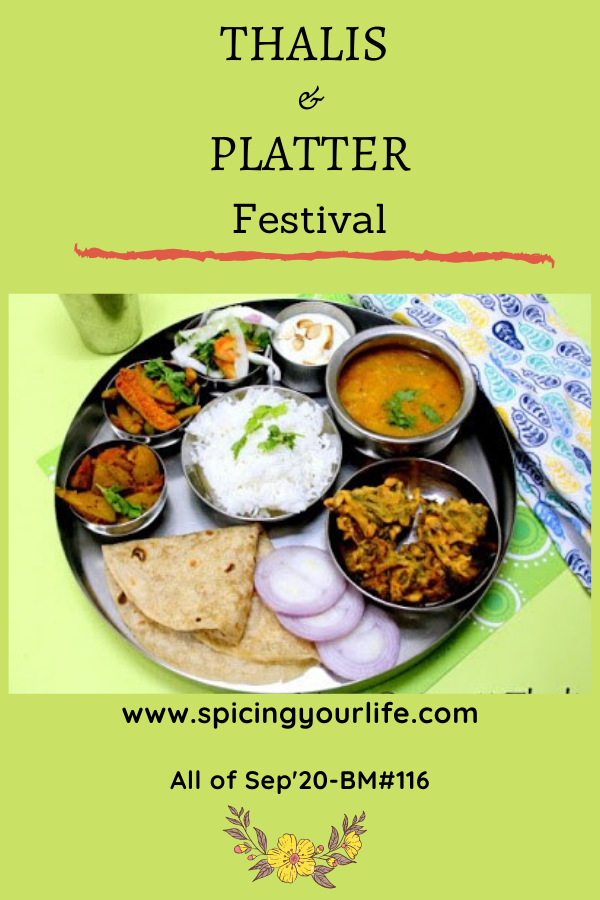 Check out the Blogging Marathon page for the other Blogging Marathoners doing BM#116
You are invited to the Inlinkz link party!