BM #116 : Week 3, Day 6
Theme : Indian Flatbread Thali
For the last day of flatbread week, I have a simple thali with pudina paratha. A google search for pudina paratha showed me that's it's mostly served as layered paratha (lachha paratha), so I also did the same. I love making lachha paratha, though it's been a long time I made it. The thali here is a very simple one, the parathas are served with a simple dal and dal makhani. Dal makhani is one of my go to dishes when we have guests coming or to take for a pot luck. Rajma and chole are the other two favorites. When cooking with beans, the biggest advantage is that you can cater to more people without having to cut too many vegetables.
Though I enjoyed making the paratha thalis a lot, I made those back to back. As a result, at the end of the week, I was feeling bloated and heavy after eating such rich food for a week. At my age, you kind of need a little break between two thalis :-))! Next time I will plan better and spread these out over few days. That's the reason why I decided to make a simple thali for the last post under this theme.
Scroll down for the recipes and more pictures.
The thali has
Pudina paratha
Dal makhani
Moong dal tadka
Green garlic chutney
Yogurt
Gulab jamun (readymade)
2 cups wheat flour/atta
1 cup packed mint leaves
1 teaspoon chili powder
1 tablespoon oil or ghee
Salt as needed
water to knead into a dough
Method:
Wash, clean and mince the mint leaves. Add it to a mixing bowl along with the wheat flour, chili powder, oil and salt. Add water in 1/4 cupfuls and knead it into a soft smooth dough. Keep aside for 15 minutes to rest.
Divide the dough into 6-8 balls. I usually make 3 chapatis from one cup of flour. Roll out into plain chapatis or if you want the lacha paratha layers, refer to the original post here for stepwise pictures.
Cook on a heated tawa and repeat with the rest of the dough. Serve hot with a curry of your choice or with yogurt and pickle or chutney.
Dal makhani
3/4 cup whole black urad dal
1/4 cup Rajma
1 tablespoon ghee
1 big onion, chopped
1 big tomato, chopped
1 tablespoon ginger garlic paste
1 teaspoon chili powder
1 teaspoon coriander powder
1 teaspoon garam masala
3 tablespoons fresh cream
Salt as needed
Method:
Wash and soak both the dals together overnight or at least for 5 hours. Drain, rinse and pressure cook with about 3 cups of water. You need enough water so that the dal is completely submerged and there is about an inch of water above the dals. I cook for 25 minutes in Manual mode in instant pot (Pot in Pot method). Let the pressure release naturally.
Heat ghee in a pan. Add the finely minced onions. Sauté until it's done and add finely chopped tomatoes. You can add puréed tomatoes too. Add the spice powders, salt and ginger garlic paste. Mix well and cook until the tomatoes are done.
Once the tomatoes are cooked and mushy and the oil floats on top, add the dal along with the water it's cooked in.
Add 1 cup of water (or more) to bring it to the consistency you prefer. Taste test and adjust seasonings. Let it simmer for about 20-30 minutes in low heat. Keep stirring in between to prevent the dal sticking to the bottom of the pan. The longer it cooks, tastier it would be. You might have to add more water if it starts getting too thick.
Add the cream and mix it in. Let it cook for 5 minutes. Turn off the heat and stir in a tablespoon more of cream at the time of serving.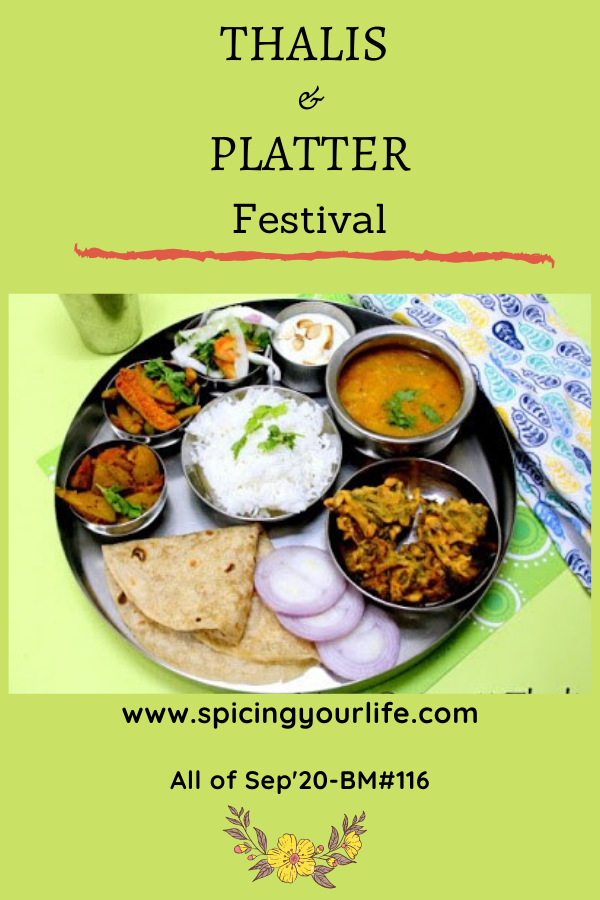 Check out the Blogging Marathon page for the other Blogging Marathoners doing BM#116
You are invited to the Inlinkz link party!
https://fresh.inlinkz.com/js/widget/load.js?id=9c9b10dbdecdfb9300b0