BM #116 : Week 3, Day 5
Theme : Indian Flatbread Thali
Mega blogging marathons need a lot of planning and I usually don't participate since I have this habit of postponing till the last minute. Even for our regular monthly blogging marathons, I end up cooking only on the day of posting. The time difference between US and India work in my favor because I can cook a meal for lunch and post it by evening as we are 9 plus hours behind IST. But for a mega marathon and that too with a Thali everyday theme, planning was needed. Since I joined with just about 20 days before the marathon stared, I ended up continually cooking thalis last month.
The first thing I did after shopping was to cut all the vegetables (not onions and tomatoes, that needs to be done just before cooking). That helped a lot. Second thing was to cook rice before I went to sleep. That way, the next morning, I already had cut vegetables and cooked rice. That's a much easier place to start. Third was to make a batch of plain chapati dough and another for thepla.
Whenever I could, I would soak and cook the dry beans also ahead. So when I am planned Chana masala for the poori thali, I soaked and cooked extra Chana. That way, I already had cooked Chana when I made chole for the chaat platter.
Once I had prepared a list of the dishes I wanted to make – the choices of Curries (with the A-Z theme in mind as well), parathas and rice, it was easy. All I had to do was to decide what curry to make that day and pair with what kind of paratha and rice. I also decided not to make sweets from scratch, so a couple of canned gulab jamuns was what I decided to serve as dessert.
It helps that I have to cook only for three people. Also since all the thalis have rice and two Curries, I make only 1 or 2 parathas per person. For today's post, I made the dough only when I started cooking as it's better that way with avocados. I served 2 chapatis in my husband's thali. My son had 3-4 chapatis and he skipped the rice.
So when I start cooking for a thali, for most part, I already have cooked rice (which I keep for 1 minute in Manual mode in Instant pot for reheating), cut vegetables and mostly, dough for the parathas also ready. Any experienced cook would tell you that from this point, it's easy to make two Curries and a few parathas :-).
Read on for the recipe and more pictures.
The thali has
Avocado paratha
Capsicum rice
Cucumber slices
Boondi raita
Avocado paratha
2 avocados, peeled, pitted and mashed
2 cups wheat flour (atta)
1 teaspoon chili powder
1/2 teaspoon cumin powder
salt as needed
In a mixing bowl, add mashed avocados. Add the flour and spices. Mix and knead to a soft dough. If needed, you can add a tablespoon or two of water to bring it into a dough. I didn't need any. Let the dough rest for 15 minutes.
Take a small lime sized ball and roll it into a chapati. Cook both sides on a heated tawa with a little ghee if preferred.
Repeat with the rest of the dough. Serve with any curry of your choice.
Capsicum rice:
1 tablespoon ghee or oil
1 teaspoon jeera
1 big capsicum /bell pepper, diced
1 cup cooked leftover rice
1/4 cup frozen and thawed green peas
2 teaspoons biryani masala
1/2 teaspoon chili powder, optional
Salt as needed
Method:
Heat ghee in a pan. Add jeera seeds. Once it crackles, add the diced capsicum. Sauté until it's softened a little. Add the thawed green peas. Add the biryani masala, chili powder and salt. Mix well. Cover and cook for a minute or two.
Add the cooked rice. Mix carefully without breaking the rice. Taste test and adjust seasonings if needed. Cook for a couple of minutes until the rice is heated through. Turn the heat off and serve hot with curry or raita of your choice.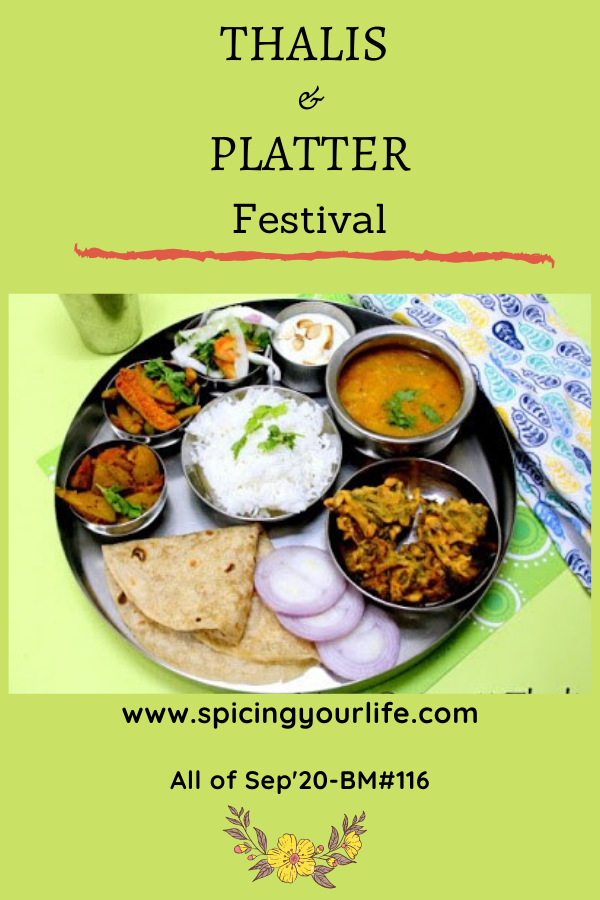 Check out the Blogging Marathon page for the other Blogging Marathoners doing BM#116
You are invited to the Inlinkz link party!
https://fresh.inlinkz.com/js/widget/load.js?id=9c9b10dbdecdfb9300b0