BM #116 : Week 3, Day 4
Theme : Indian Flatbread Thali
One of our friends is from Gujarat and they make amazing theplas. Their food is delicious in general, but the theplas are on a whole different level. I have gotten the recipe from my friend's mom who is an expert in this, but my trials haven't been anywhere near hers. I have forgotten her recipe now and what I make now just has a mix of masalas with a paste of ginger, garlic and green chilies. They are now in India and I am planning to write down the recipe next time I meet my friend's mom.
My friend's kids and shreyas play for the same cricket team. So when she makes thepla as an after practice snack for her kids, she would always pack some for shreyas too. He would finish how many ever theplas she had packed. No need for any side dish, they are yummy on their own.
Though theplas don't need any side dish, I always prepare a curry just in case. I also prepare rice and Gujarati dal too. A couple of theplas followed by rice and dal is a really good meal.
Read on for the recipe and the pictures.
The thali has
Thepla
Sev Tamatar
Gulab Jamun (readymade)
Rice
Yogurt
Mango chundo (readymade)
Salad and green chilies
Thepla recipe:
2 cups wheat flour
2 teaspoons chili powder
1 teaspoon coriander powder
1/2 teaspoon cumin powder
2 teaspoons of ginger- garlic- green chili paste
2 tablespoon oil
salt to taste
Water to knead to a dough
Method:
In a mixing bowl, add flour, chili powder, coriander powder, cumin powder, ginger garlic and green chili paste, salt. Mix so that everything uniformly distributes. Add oil and water slowly and knead it into a dough. Rest for 10-15 minutes.
Take a small lime sized ball off the dough. Roll into a circle using a rolling pin, using some flour to help with rolling and to avoid the dough sticking to the rolling pin.
Cook on a heated tawa using a little oil or ghee. Flip and cook the bottom side too. Repeat with the rest of the dough.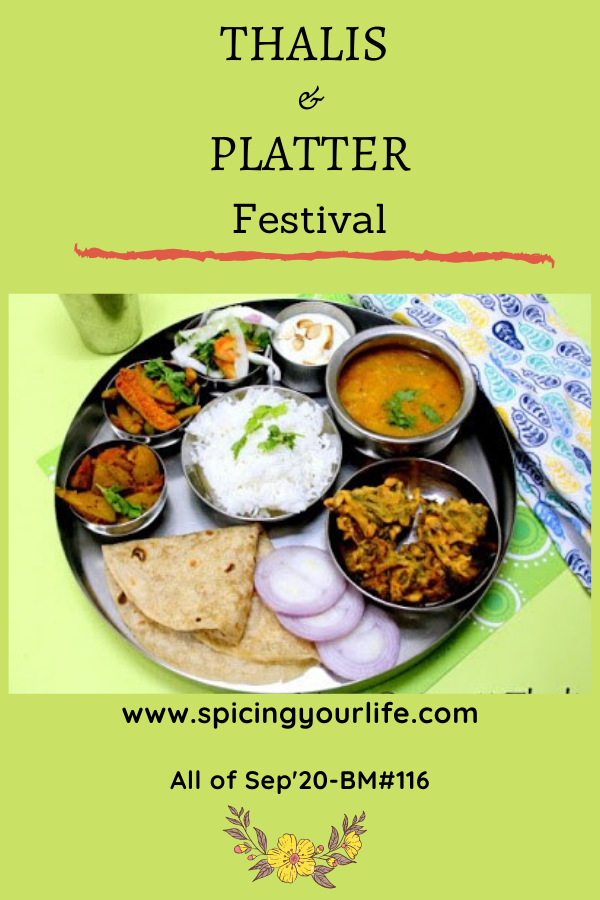 Check out the Blogging Marathon page for the other Blogging Marathoners doing BM#116
You are invited to the Inlinkz link party!
https://fresh.inlinkz.com/js/widget/load.js?id=9c9b10dbdecdfb9300b0