BM #116 : Week 3, Day 3
Theme : Indian Flatbread Thali
Like I had mentioned in an earlier post, paneer was not something we grew up eating. Dishes like paneer butter masala and palak paneer were alien until I was in college. Eating at restaurants was also not a thing to do at the time. It was not only because of financial constraints, but also because of the belief that hotel food was not prepared with the high levels of hygiene that we maintain at home. It all changed around the time we started college, when better hotels started coming up, the younger generation started eating out and the buying power went up because of IT jobs.
Well, all I was trying to say was growing up paneer dishes was not common in our house. EXCEPT for this chapati. Though we call it paneer chapati, it's actually a paratha. My mother used to make this paneer stuffed chapati every once in a while. She would make paneer from scratch and Use the leftover whey to prepare the chapati. Paneer would then be processed with a little coriander leaves, green chilies and salt to get a coarse mix that looks more white than a completely green paste. That's the filling she used to make this paneer chapati. I always end up using more coriander than needed and end up with a green paste with no white to be seen anywhere 🙄!
I prepare this chapati once in a while and whenever I make it, I feel nostalgic. This really doesn't need any side dish, not even yogurt and pickle. But amma always used to serve some curry, so for the thali here, I paired it with Chana dal with lauki and a tindora curry. I had some leftover rice which I made into onion rice. I keep making tomato rice or coconut rice or onion rice with leftover rice. It's an easy way to bring some variety without too much of work involved. The rice doesn't need any side dish but definitely pairs well with both the Curries and yogurt or chutney. We finished the meal with some readymade gulab jamun.
Read on for the recipes and more pictures.
The paneer paratha thali has
Paneer paratha
Sautéed onion rice
Lauki Chana Dal
Yogurt
Salad
Gulab jamun (readymade)
Paneer paratha :
For the dough :

Mix water and a little salt to 1 cup wheat flour and knead into a soft smooth dough. Set aside to rest.

For filling :

Process 1/2 cup of paneer with 2-3 green chilies, 1/4 cup packed coriander leaves and salt as needed in a food processor to get a very coarse mix.

To make parathas :

Take a lime sized ball of the dough and roll it out into a small circle. Keep a tablespoon of filling inside. Bring the sides to the center to close the filling inside the dough. Roll out into a paratha using flour to help with the rolling. Cook on a heated tawa and add a teaspoon of ghee to it. Cook both sides of the paratha and repeat with the rest of the dough. Serve with a curry of your choice.
Sautéed onion rice :
Heat a tablespoon of oil or ghee in a pan. Add one big onion sliced lengthwise along with 2 green chilies sliced lengthwise into two pieces. Sauté until the onions are soft and cooked. Add salt as needed.
Add 1 cup of leftover cooked (and preferably cooled) rice and carefully mix. Turn off the heat once everything is combined well and the rice is heated through. Serve with any curry of your choice or on its own too.
Lauki Chana dal :
Pressure cook 3/4 cup chana dal with 2 cups of diced and seeded lauki (bottle gourd) and water as needed. I cooked for 8 minutes in instant pot. Let the pressure release naturally.
Heat a spoon of oil or ghee in a pan. Add one teaspoon of mustard seeds and once it crackles, add a medium chopped onion. Sauté it until it turns pink. Now add a chopped tomato, 2 teaspoons of ginger garlic paste, 1/4 teaspoon turmeric powder, salt as needed and 1 teaspoon chili powder. You can add a teaspoon each of garam masala and coriander powder too. Once the tomatoes are cooked and mushy, add the cooked Chana dal with the water it's cooked. Add more water if needed and bring everything to a boil. Taste test and adjust seasonings. Turn off the heat and sprinkle some chopped coriander leaves. Keep covered until the time of serving.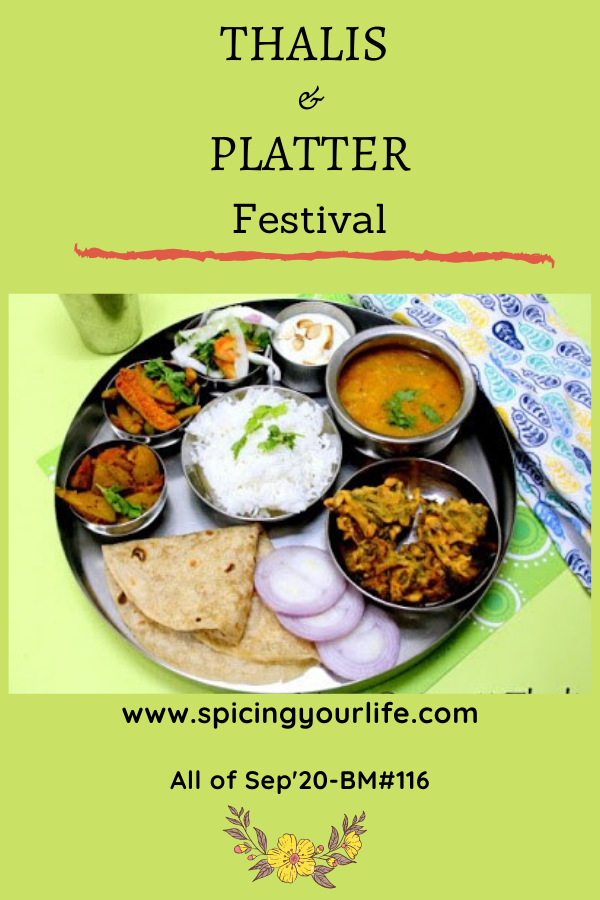 Check out the Blogging Marathon page for the other Blogging Marathoners doing BM#116

You are invited to the Inlinkz link party!
https://fresh.inlinkz.com/js/widget/load.js?id=9c9b10dbdecdfb9300b0