BM #116 : Week 3, Day 2
Theme : Indian Flatbread Thali
Like I mentioned yesterday, my deep frying skills aren't the best. I neither like to deep fry nor am I good at it! So these deep fried pooris are a rare occurrence at my place. Can you blame my husband for getting excited? He LOVES pooris, but his borderline cholesterol is great excuse for me not to make any :D. Hey, it's all for his own good, believe me! ;-)
This thali was planned on the fly. I had sambar rice with raita and pickle planned for lunch. I had some leftover chole from the night before. So decided to pair the chole with poori and serve as part of the lunch. I want to make batura for the chole someday, but I always come up with some good sounding excuse for wanting to postpone it.
I made three kinds of pooris – plain, ajwain (carom seeds) and a chutney flavored poori. The flavors are inspired from the same YouTube video. The chutney flavor wasn't too prominent in the final poori though. I might increase the amount a little more next time (if I ever make poori again!)
I always serve chole with cut raw onions and lemon wedges. Since there was a salmonella outbreak and I didn't know where my onions were sourced from, I skipped the raw onion part. I needn't have worried, it was not from the farm that recalled it. So I served chole with lemon wedges. I also made a fresh garlic chutney, originally from Vaishali's space, using frozen green garlic. Fresh green garlic always reminds me of our trip to Ahmadabad for BM 25 meet and Vaishali :-).
Read on for the recipes and more pictures.
The thali has three kinds of poori though each plate has only one poori each.
Chutney Poori
Ajwain poori
Plain poori
Lime wedges
Raita / yogurt
Pickle
Kachumber (salad)
Gulab jamun (readymade)
1 cup wheat flour
Water to make a dough
Salt as needed
Oil to deep fry
For the chutney : Grind together 1 cup coriander leaves, 1/2 cup mint leaves, 3 green chilies, 1 teaspoon cumin seeds, 1 inch piece of ginger To a smooth paste without adding any water OR use 3 tablespoon readymade green chutney
Add the wheat flour into a mixing bowl. Add the chutney and salt as needed. Slowly add water and mix it in. knead to get a slightly stiff dough. Cover and Set aside for 10 minutes.
Take a small lime sized ball of the dough, roll it out using a little oil to prevent dough from sticking to the rolling pin. Deep fry in oil, drain once it puffs up and serve hot with chole.
Ajwain poori:
1 cup wheat flour
1 teaspoon ajwain/ carom seeds
2 teaspoons ghee
salt as needed
Water needed to make a dough
Oil to deep fry
In a mixing bowl, add the flour, ajwain seeds, ghee and salt. Mix to combine and add water little by little and form a smooth but stiff dough. Take a small ball of dough and roll it out into a small circle. Deep fry to make pooris. Serve with chole or any curry of your choice.
Kachumber:
1 small onion
1 big tomato
1 small cucumber
1 small green chili
Salt and lemon juice, as needed
Finely chop all the vegetables and mix in a bowl with salt and lemon juice as needed. Serve with pooris or chapati.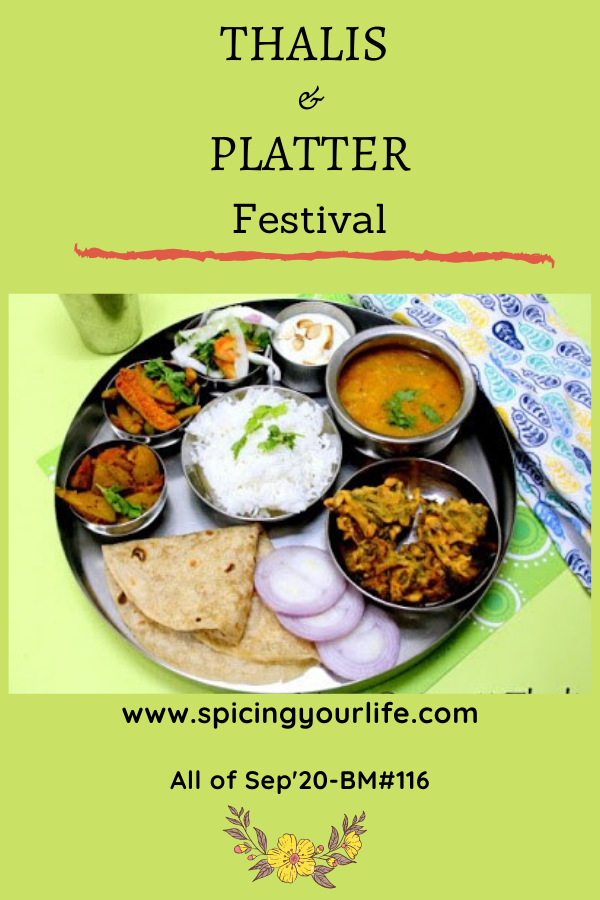 Check out the Blogging Marathon page for the other Blogging Marathoners doing BM#116
You are invited to the Inlinkz link party!
https://fresh.inlinkz.com/js/widget/load.js?id=9c9b10dbdecdfb9300b0