BM #116 : Week 2, Day 6
Theme : Platters
I had a teatime platter with Indian snacks in my mind for this theme. But I decided against it since most of it involves deep frying, which I am not very fond of. I have improved enough to do deep fry decently, but the desire to do it is just not there. Deep frying is a hazard for someone like me who washes their hands 150 times a minute and then goes back straight to hot oil with water dripping from hands :D…
I have consciously cut down this hand washing habit when I am cooking, it has also weaned because of the cold weather that remains for a good portion of the year here. Still it happens often that I catch myself dripping water into pans while cooking – Never a good idea when handling hot oil ! So I have never been a good fan of deep frying – it's hazardous for me :-D
Anyway for the platter here, I shelved the Indian snacks idea for another day and decided to use all the snacks I have at home. I added a couple of sandwiches too as a more filling meal. For the eggplant sandwiches, I used leftover sautéed eggplant from lunch. I would have made a couple more sandwiches, but I was out of bread. I just realized that the tea time platter has coffee instead of tea :-)), well my husband prefers coffee, so this works better for us.
Scroll down for the recipes and more pictures.
The platter has
Roasted peanuts
Paneer sandwich
Roasted makhana
Crackers
Sev
Eggplant sandwiches
Tortilla chips
Salsa
Coffee
Tea biscuits
Mixed cheese
Apples
Cashews
Cauliflower crackers
Raisins
Cucumbers
Mint chutney
Paneer sandwich
Crumble two tablespoons of paneer in a bowl. Add 2 teaspoons each of very finely chopped carrots and cucumber. Add one chopped green chili. Carefully add 1 teaspoon of sriracha or any hot sauce of your choice. Stir everything together and use as filling on toasted bread.
Eggplant sandwich:
Heat oil in a pan. Sauté one small onions and 2 cloves of minced garlic. Add one small chopped tomato along with 1/2 teaspoon chili powder, 1/2 teaspoon coriander powder, 1/4 teaspoon turmeric powder and salt as needed. Once the tomatoes are cooked and soft, add two medium diced eggplants. Cover and cook, stirring in between, until the eggplants are done. Serve as a filling inside toasted bread.
You can find the recipe for roasted makhana here but the one on the platter is readymade.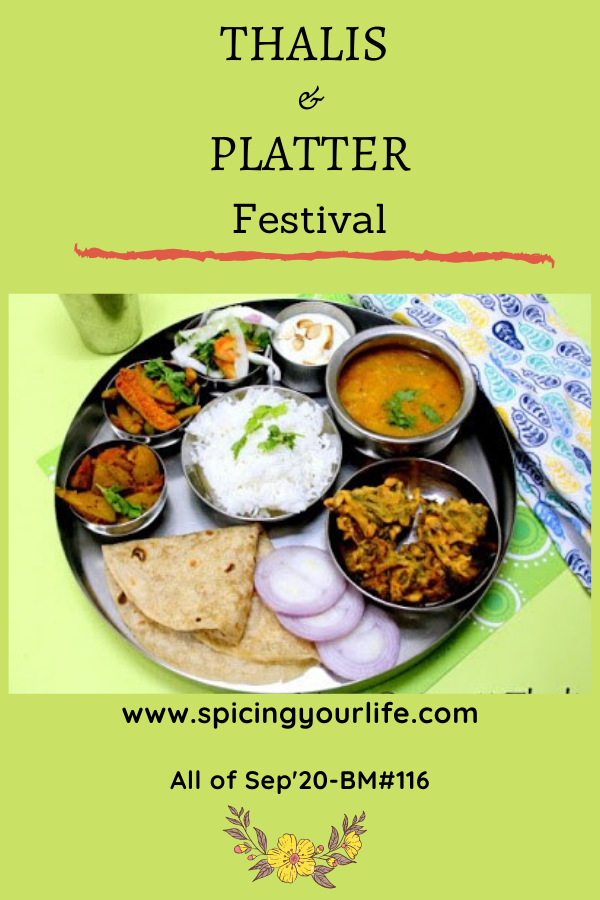 Check out the Blogging Marathon page for the other Blogging Marathoners doing BM#116
You are invited to the Inlinkz link party!
https://fresh.inlinkz.com/js/widget/load.js?id=9c9b10dbdecdfb9300b0