BM #116 : Week 2, Day 5
Theme : Platters
It's only recently that we have started making tacos at home. For a vegetarian, it makes sense to make it at home as there aren't a lot of vegetarian options to choose from. For this platter, I have made a simple lime cilantro rice and refried beans as fillings. Mexican rice, scrambled soya, black beans with salsa are some other excellent choices we have tried.
This was another platter I plan on repeating often. It's so easy to serve yourself when all the options are laid in front of you. Even otherwise this is how we serve tacos, everything will be in a bowl and all in one place, but in platter is a lot more neater and easier to serve oneself. It would be tough to do this for a bigger crowd, but for the three of us, it would be a good choice.
A lot that goes into the platter are ready to eat toppings like cheese and sour cream or toppings that don't need a lot of time to prepare. It takes only a couple of minutes to make guacamole and salsa. The corn also takes very little time to prepare. I usually make a corn salsa, but after giving this mayo recipe a try, this is going to be my go to recipe now onwards. If you have cooked beans and rice ready, even refried beans and lime rice take really little time to put together. Initially I was planning on the soya filling and a roasted vegetable filling too, but I decided against it to keep it really simple.
Read on for the recipes and more pictures.
The platter has
Soft tortillas
Hard taco shells
Readymade hot sauce
Sour cream
Fresh tomato salsa
Cilantro
Street style corn topping
Shredded cheese
Lemon wedges
Serrano pepper/jalapeños
Cilantro lime rice
Refried beans
Heat 1 tablespoon olive oil in a pan. Sauté one medium onions and 2-3 cloves of garlic. Add 1 teaspoon chili powder (or per taste) and 1/2 teaspoon ground cumin. Mix it in.
Add 3 cups of cooked pinto beans and 1/2 cups of water. Cover and cook for 5 minutes or so. Remove lid and mash the beans with a fork or a potato masher until it comes to the consistency you like. Add salt as needed. If it's too thick add a little more water to bring it to the right consistency. Turn off the heat, add a handful of chopped cilantro leaves (about 2 tablespoons) and a tablespoon of lemon juice. Taste test, adjust seasonings if needed.
Cilantro rice
Cook one cup of rice with 2 cups of water, 1 tablespoon butter and salt as needed. I do this in a pressure cooker / instant pot.
At the time of serving, add half cup chopped cilantro leaves and juice from half of a small lemon. Taste test and add more lemon juice if needed.
Street style corn: I used frozen corn for this recipe. Thaw 1.5 cups of frozen corn in the microwave. Drain the water. I sautéed this in a pan with a little butter for a few minutes. Transfer this into a bowl. Add 2 tablespoons mayonnaise, 2 tablespoons sour cream, 1 tablespoon lemon juice, 1 teaspoon chili powder and salt as needed. Stir to combine and add 2-3 tablespoons of chopped cilantro. Taste test and adjust seasonings if needed.
Fresh tomato salsa: In a bowl, add 2-3 finely chopped tomatoes, 1/2 of a medium onion – finely chopped, 1-2 green chilies – minced , juice of half a lime, handful of cilantro leaves and salt as needed. Mix well, taste test and add more lemon juice or other seasonings if needed. Refrigerate until it's time to serve.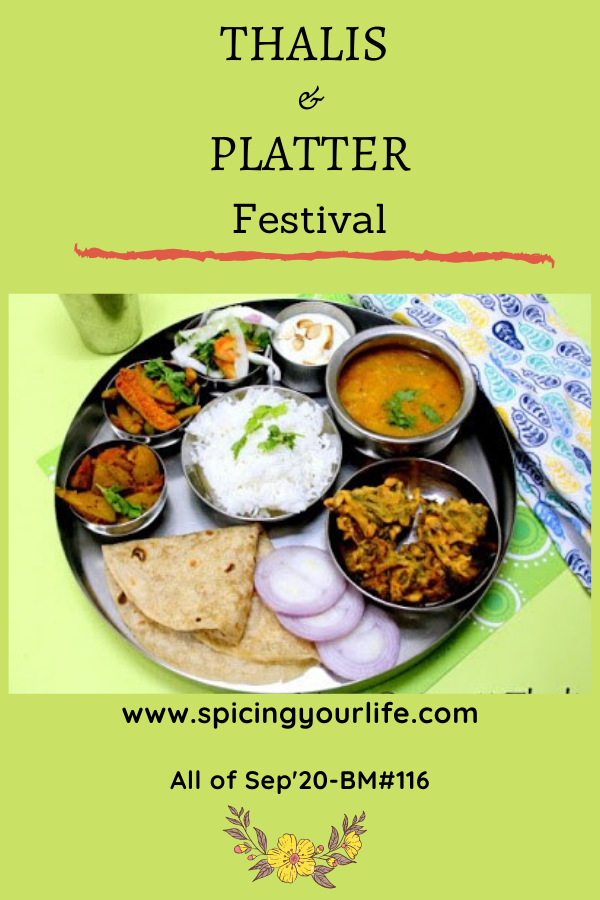 Check out the Blogging Marathon page for the other Blogging Marathoners doing BM#116
You are invited to the Inlinkz link party!
https://fresh.inlinkz.com/js/widget/load.js?id=9c9b10dbdecdfb9300b0