BM #116 : Week 2, Day 1
Theme : Platters
I have a picture of a chaat lunch in my drafts folder, I had taken the picture because it was filling out our dining table with the various chutneys and yogurt and the fillings and everything. I actually had to stand on top of a chair to take a picture of the whole meal. It looked nice and so I had planned a chaat platter for the mega marathon.
Once I had the recipes in place (ragda patties, Chole tikki and pani puri as bass recipes), I happened upon the world of food boards/ charcuterie boards. You have to look up that hashtag in Instagram or give a google search to see what a visual treat that it is!! It's chopping boards or cheese boards or trays completely filled with food. I have seen Charcuterie or cheese boards before, but the boards can be of any theme of your choice. And so I decided to do a chaat platter like a food board.
The biggest advantage of serving a food board is that you can choose and make whatever combination you like. With these base recipes of Chole, ragda and pani puri, you can make a whole lot of chaat recipes. The same patti can be used for ragda patties, Aloo tikki Chole and Aloo tikki chaat. For pani poori, you can have variations like boondi pani puri, Dahi poori, Chole pani puri, ragda pani puri on top of the regular potato and Chana filling. You can try any combination you want. Usually I make a couple of different kinds of pani, but with so many options, I decided to stick with just the regular pani.
I usually make the chutneys too at home, but this time I had some readymade chutneys and so used that. I have linked the recipes that I use below, but the platter has the readymade one. The puris are also readymade. The chaat masala is homemade, mine finished during the peak coronavirus times, so made it at home since I had all the individual spices.
The platter has
Yogurt
Green chutney for chaat (readymade)
Coriander leaves
Chaat Masala (recipe below)
Chopped onions
Panipuri pooris (readymade)
Panipuri Paani
Boondi (readymade)
Potato filling for pani puri (recipe below)
Chole filling for panipuri(recipe below)
Lime wedges
Potato filling for pani puri
Mash one boiled potato with salt and chili powder to taste. Sprinkle chaat masala and some finely chopped coriander leaves, if preferred. Use as stuffing for pani puri.
Chana filling for pani puri
In a bowl, add half cup of cooked chana. Add some chopped onions, chaat masala, chili powder and salt to taste. Mash with a fork but leaving some Chana in chunks and some mashed. This helps it to hold together well making it easy to scoop and fill the Puris.
2 tablespoons coriander seeds
2 tablespoons cumin seeds
1 1/2 teaspoons fennel seeds
1 1/2 teaspoons ajwain seeds
1 teaspoon black peppercorns
1 teaspoons dried mint leaves
1 teaspoons ground ginger
3 tablespoons amchur
2 tablespoons kala namak
Method: Dry roast coriander, cumin and fennel seeds over medium heat until it turns a little darker. Once it's cooled down, grind into a powder with the rest of the ingredients. Store in a dry airtight jar.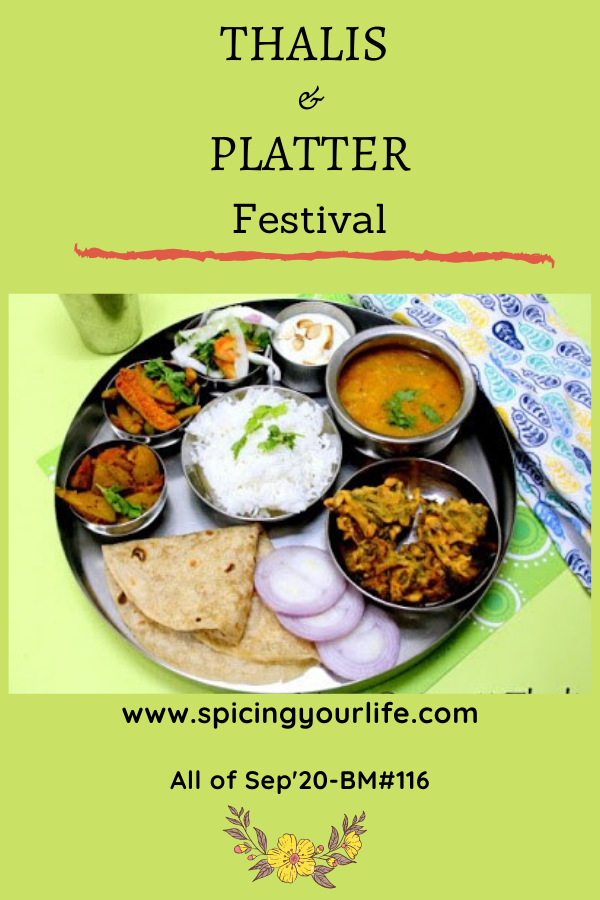 Check out the Blogging Marathon page for the other Blogging Marathoners doing BM#116
You are invited to the Inlinkz link party!
https://fresh.inlinkz.com/js/widget/load.js?id=9c9b10dbdecdfb9300b0