BM #116 : Week 1, Day 1
Theme : Regional Thali
Happy Onam to all those who celebrate :-). The plate above shows how we celebrated ours! Sadya is a vegetarian feast and I felt that's the best way to start this month's mega marathon. The theme for this entire month is Thalis and Platters. So you will see a different platter every day for the month of September. You can read in detail about this in Valli's post here.
For the first week, I have chosen regional thalis and Onasadya is a perfect thali to begin this. I do some prep work the day before, but cooking a feast for three people is getting easier with each passing year. The entire Sadya took about 2.5 hours for me to prepare, but I had cut the vegetables for avial and cabbage thoran the day before. The main time saver was that I had prepared two payasams yesterday for Onnam Onam (first day of Onam, it's celebrated for four days, the second day being the most important). Usually, you never serve leftover food for Sadya, but since it's just the three of us here and my son loves payasam, I decided to prepare it a little ahead to enjoy it leisurely.
One of the reasons I find cooking to be easy now is that I have a four burner stove, an instant pot and the microwave at my disposal. So this morning, I was cooking the vendakka/ okra for the kichadi in microwave while the avial was cooking in the instant pot. Sambar, rasam, thoran and payasam were all getting done in the stovetop. I have tried this recipe for Instant Pot Avial from here before and its come out delicious. So today, that's what I chose to do today.
I couldn't get a banana leaf from the Indian store for serving the Sadya. It was out of stock, I guess everyone bought it a couple of days ahead at least. We served our Sadya in regular plates. At the time of taking pictures, I remembered the paper banana leaf I got from my friend and used it to take pictures. The paper leaf is flimsy, so not exactly great to eat from. I also couldn't find ash gourd for Olan. I was a little upset at that, but finally zero was down on bottle gourd as a substitute. I made only a small batch since I didn't know how it would turn out. It turned out quite okay, so I was happy.
Read on for the recipe for avial in Instant Pot.
The Sadya has the following dishes.
Rice
Parippu/dal
Mixed vegetable Sambar
Lemon Rasam
Green plantain and chana Kootu curry
Okra Kichadi
Beetroot thair pachadi
Cabbage thoran
Achinga payar mezhukku piratti
Olan
Pumpkin erissery
Avial
Puli Inji
Ada pradhaman
Pazham pradhaman
Semiya payasam
Jackfruit chips
Sharkara varatti
Banana chips
Banana
Mango pickle
Lemon pickle
Moru (buttermilk)
Ghee (not in the picture)
Pappadam (not in the picture)
All of these recipes can be found at Kerala Sadya Recipes page.
Ingredients:
4 cups mixed vegetables for avial*
3/4 cups water
1/2 teaspoon turmeric powder
1/2 cup grated coconut
1 teaspoon cumin seeds
2-3 green chilies or per taste
2 sprigs of curry leaves
salt as needed
1/2 cups yogurt or more as needed
2 teaspoons Coconut oil
Method:
Wash, clean and cut vegetables into thin finger potato like pieces. I choose a combination of at least three vegetables. Green plantains, carrots, beans, snake gourd, eggplant, cluster beans etc are usually used in avial.
Measure out four cups of cut vegetables and put it into the inner pot of instant pot. Slice the chilies lengthwise and add it. Add everything else except the yogurt and coconut oil.
Cook in Manual mode for four minutes. Once it's done cooking, wait for 5 minutes and do a quick release of pressure.
Stir the yogurt in, taste test and adjust seasonings. Add the coconut oil, mix everything well. Keep covered with a lid until it's time to serve with rice and sambar.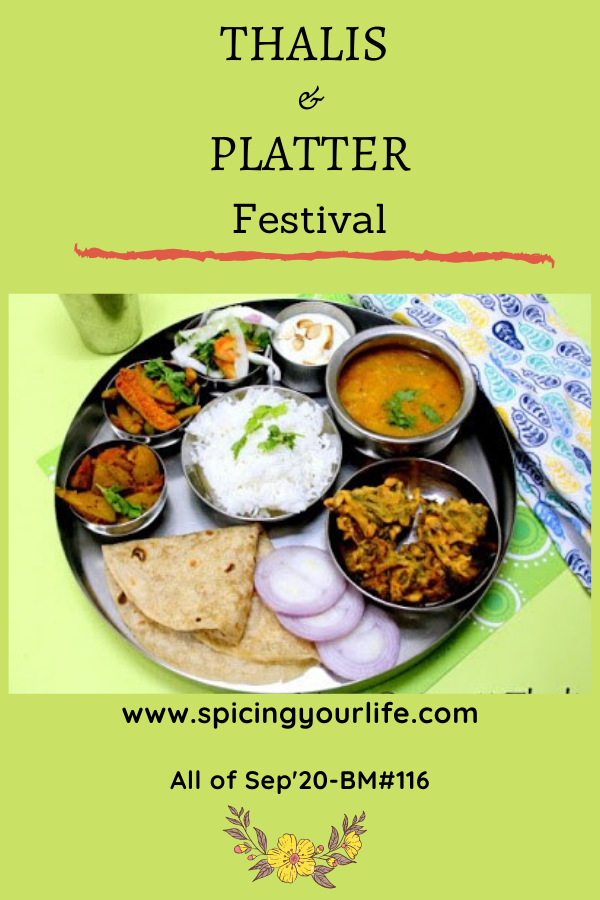 Check out the Blogging Marathon page for the other Blogging Marathoners doing BM#116
You are invited to the Inlinkz link party!
https://fresh.inlinkz.com/js/widget/load.js?id=9c9b10dbdecdfb9300b0